Two More Supremely Cool Online Tools
Monday, December 05, 2005
Okay: it's official. I've developed an addiction to online organizing tools.
(Are you surprised? Do I do anything in moderation?)
Anyway. Here are my two latest loves: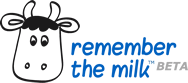 Rememberthemilk.com
: A to do list for those of us who like our to do lists to be fun, funky, and functional.
Backpack
: An online brainstorming space that keeps you organized while allowing you to share your thoughts and ideas with other people. Too cool.
| posted by Ann D @ 5:19 PM