Writing Motherhood
Friday, May 04, 2007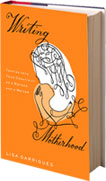 Mothers have always written about the experience of mothering. They've written letters to other mothers detailing the complex blend of day-to-day minutae and big-picture thinking that go into raising a child.
They've recorded the journey of their days in their diaries
. They've captured these moments in poetry, fiction, song lyrics, and movie scripts (to say nothing of countless other art forms). And, more recently, they've been inspired to hit the blogosphere to chronicle their lives and experiences and create a community of mothers online.
Writing about motherhood is a proud tradition and one that many mothers are drawn to, both to make sense of the powerful, life-changing experience of becoming a mother and because they want to capture moments of this journey, perhaps to share with their child, another friend, or the broader community of mothers.
Writing Motherhood
by
Lisa Garrigues
reads very much like "
Simple Abundance
for Mothers:" a guided journey to greater self-discovery and creativity as a mother and a writer. The book is inspiring and encouraging, and the techniques suggested will work well for mothers who are primarily interested in journalling (what Garrigues refers to as keeping a "Mother's Notebook"), but who may also be interested in other types of writing. In a short section entitled "Coming Out of the Notebook," pages 253 to 254, Garrigues discusses first steps to pursuing publication and other means of sharing your work with the world (reading your work, starting a blog). There is an additional section on online options for writers (pages 289 to 294), which will primarily be of interest to the mom who is new to the online world.
The book is peppered with encouraging quotes from other writers and Garrigues has included enough resources and writing ideas to provide creative inspiration to keep any mom writing non-stop. I love Garrigues' advice about the need for a holistic writing schedule for mothers -- "one that takes into account your whole life." She argues that your writing schedule should be nonnegotiable, individual, reasonable, resilient, and compassionate." Very sensible advice.
The only suggestion I would make to a reader of this excellent book is not to get too caught up in the formal writing exercises and writing prompts that are provided. Use them to jumpstart your creativity on days when your muse has gone AWOL, but don't allow them to drown out the ideas that are perculating inside your own brain.
What you want to be writing (and what the world wants to hear) are your own unique ideas; your own unique experiences; those raw moments of motherhood that are so fresh and dripping with truth that you have no choice put to reach for your Mother's Notebook and write. That's what motherhood writing is all about and where Garrigues ultimately wants to take you. Enjoy the trip.
Note: A review copy of
Writing Motherhood
was provided by the organizers of the
Mother-Talk.com
book blog tour. I will also receive a small honorarium ($20 USD) for writing this review.
Related:
WritingMotherhood.com
Labels: motherhood writing, mothers, writing
| posted by Ann D @ 8:37 AM